A Spring 2020 Journal of Applied Research in the Community College
27th Edition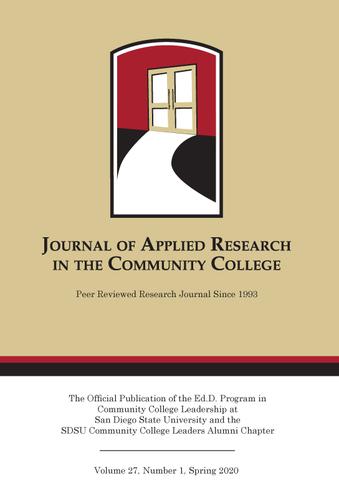 Print On Demand Available
Print on Demand books are individually printed when an order is placed and typically arrive between 7 - 10 business days. When placing an order, you'll be asked to choose a shipping address or pickup location.
Additional Book Details
This issue of the Journal of Applied Research in the Community College (JARCC) is a special edition. It is comprised primarily of research papers that were presented at the 2019 Council for the Study of Community Colleges (CSCC) annual conference, which was held in San Diego, California. CSCC is an affiliate of the American Association of Community Colleges (AACC) and a project of the Center for the Study of Community Colleges. Council members include university-based researchers and community college practitioners who further scholarship on the community college enterprise. Eight of the nine articles in this edition emanated from presentations at the CSCC conference.
CONTENTS
Volume 27, Number 1, Spring 2020
From the Editors
Bill Piland and Marissa Vasquez..............................................................................iii
Improving Campus Climate for Employees as a Strategy for Promoting Student Success
Jemilia S. Davis et l..................................................................................................1
Online Orientation among Community College Students: Academic Engagement and Sense of Belonging
Andrew S. Herridge, Jon McNaughtan, and Lisa J. James....................................17
We are pleased to announce...: Gender Differences of Press Releases Announcing New Community College Presidents
Z.W. Taylor et al........................................................................................................33
Examining Community College Faculty Perceptions of Their Preparedness to Teach Online
Kao Vang, Florence Martin, and Chuang Wang......................................................45
Bridging the Gap: Summer Bridge Programs as an Effective Strategy for Improving Minority Student Academic Attainment in Community Colleges
Joshua Dorman, Nicholas Havey, and Loris Fagioli...............................................65
Queering Community College HSIs: An Environmental Scan of Current Programs and Services for Latinx Students
Angel De Jesus Gonzalez and Yolanda Catano........................................................81
Predictors of Academic Success Among Community College Transfer Students in Louisiana
Yu (April) Chen..........................................................................................................97
Three-Peat, Six Drop, and Excess Hours, Oh My! Latinx Community College Transfer Student Perceptions of State-Level Policies
Catherine Prieto Olivarez, Kelsey Kunkle, and Nydia C. Sanchez......................113
Community College Faculty Experiences in an Honors Program: A Phenomenological Study
M. Beth Borst and Amanda O. Latz.......................................................................129